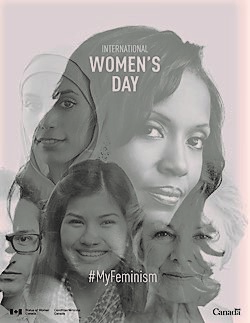 March 8th is International Women's Day, a day set aside to celebrate the accomplishments of women and to recognize the barriers and obstacles that still remain in the path of true equality. In Canada, the theme for this year's International Women's Day is #MyFeminism – established with the thought in mind that we all need to do our parts to identify, oppose and eliminate exclusionary practises and behaviors that stand in the way of true equality.
The late Rosemary Brown, Canadian Politician and dedicated activist said "We must open the doors and we must see to it they remain open, so that others can pass through."
The Nunavut Employees Union cannot agree more with Ms. Brown's statement. As the Union of Nunavut, we work everyday to ensure that our Members are treated fairly and equitably. We ask Members of all genders and backgrounds to not only honor the accomplishments of women in the workplace and society but to ask themselves what is #MyFeminism and what they can do to continue to eliminate the barriers women face daily. As a Union, and as individual citizens of Nunavut, we need to recognize each and every day how far the women's movement in Canada has come and how far we still need to go to start talking about true equality.
Belief in equality and human rights is worth fighting for. Asking yourself what your #MyFeminism is a statement of that belief. Putting that answer into daily practice before, after and on March 8th is the way to see that we all benefit from true equality.
Ms. Brown, who was Canada's first black female member of a provincial legislature and the first woman to run for leadership of a federal political party also said that "unless all of us are free, none of us will be free."
Freedom is based on an equality that is applied evenly and can start with the simple question of "what is my feminism?"
The Nunavut Employees Union
Working for those that make Nunavut work