For our travel benefits below (hotels, car rental and airline travel) you may or will need to have a valid NEU Membership Card as proof of eligibility at the discretion of each partner.
Please email reception@neu.ca to get your photo ID card as well as more information on these benefits.

Hotels: Enjoy stays at Delta Hotels (http://deltahotels.marriott.com/) at a discounted rate.
Train Travel: As an NEU Member you receive a ten percent discount for all VIA train tickets and routes.that applies to tickets purchased for yourself as well as three other members of your family travelling with you. Simply use the promo code 710697 with your purchase.
Car Rentals: Need a car rental? Give AVIS a call and identify yourself as an NEU Member through the Public Service Alliance of Canada (PSAC) Avis Worldwide Discount Number (AWD) C835975. When making your reservation it is mandatory that you use the above AWD number and have your NEU Membership Card with you when picking up your vehicle. This number is the key to accessing the special program and privileges offered by Avis to PSAC members. For online reservations or information, please visit https://www.avis.ca/en/home​.
Airline Travel: Flying in and to/from Nunavut is expensive and that is why the NEU has special, negotiated discounts with the following partner airlines to ensure that our Members get the best deal possible each time they board one of our Travel Partners' planes. You will need the Booking Codes for each of our partners to benefit from these discounts. Please email reception@neu.ca or call us the NEU Head Office at 867.979.4209 or (toll free) at 877.243.4424.
Calm Air: Simply call Calm Air at 1.800.839.2256 and identify yourself as an NEU Member when speaking to a Calm Air representative. Visit https://www.calmair.com/ for more information on Calm Air and Calm Air flights/routes.
Canadian North: Visit http://www.canadiannorth.com/ and enter the NEU/Canadian North Booking Code in the "Promotional Code" box or use it when calling 1.800.661.1505.
2 for 1 Movie Wednesdays (Iqaluit only): The NEU and Astro Theatre are happy to offer NEU Members 2 for 1 Wednesdays. Present your NEU Membership Card and get two movie tickets for the price of one every third Wednesday of the month starting June 15, 2022. NEU Members also can purchase a ½ price fountain drink and popcorn per admission on the third Wednesday of the month.
---
Union Savings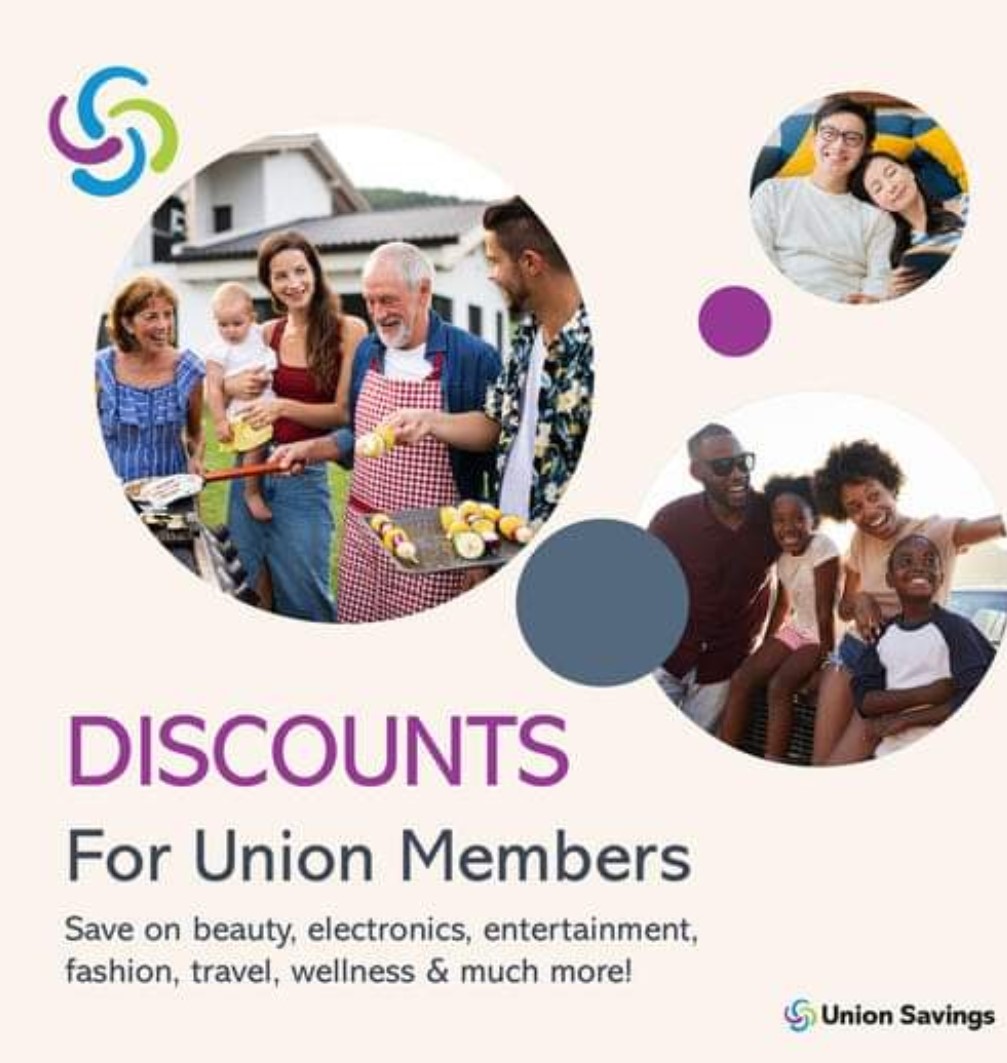 Did you know that NEU/PSAC Members and their families are eligible for various discounts and benefits through the Union Savings program? Members have access to hundreds of discounts and savings that are exclusive to Union Members.
Simply:
Visit: https://unionsavings.ca/en/register;
Select your Affiliated Union (PSAC - Public Service Alliance of Canada);
Complete the rest of the easy-to-use registration form; AND START
Exploring ways to save up t0 30% off appliances, beauty, electronics, entertainment, home goods, travel, wellness and much more.
For more information on the following benefits and many others, please visit the PSAC national website:
http://psacunion.ca/new-benefits-program-psac-members-0
You will need take a few moments to set up an account.
Group Life Insurance
Coverage available for all qualifying members and their immediate families. For information and/or application card please write to:

PSAC Insurance Trust, PO. Box 3518, Station C, Ottawa,
Ontario K1Y 4H5 or call 613-231-2266

Home & Auto Insurance
Save money with Aviva Traders. Fast service, very competitive rates, satisfactory claims settlement and convenient monthly payments without interest charges.

For full information or a quotation please call our toll free number: 1-877-880-5029.

MasterCard Program
The PSAC has an agreement with the Bank of Montreal that provides for improved credit card benefits for its members. This PSAC MasterCard program includes some discounted rates and fees, Master Road Assist, Extended Warranty Insurance, and, Skip Payment Privileges. For further details, please call 1-800-263-2263

Scholarships
Four $1000 and twelve $300 bursaries - one to a student in each Province and Territory - are offered each year by the PSAC to children of Alliance members in good standing. Students leaving high school and entering their first year of university, college or territorial education are eligible.