Here For Nunavut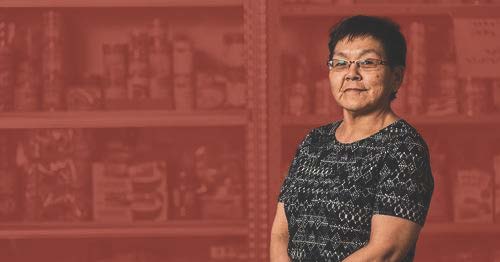 ᓄᑖᒥᑦ ᐱᒋᐊᖅᑎᑦᑎᓚᐅᕋᑦᑕ ᐊᑐᓕᖁᔨᕗᖔᕐᒥᑦ ᓄᓇᕘᒥ ᐃᖅᑲᓇᐃᔭᖅᑏᑦ ᑲᑐᔾᔨᖃᑎᒌᖏᓐᓄᑦ ᐊᒻᒪᓗ ᑭᒃᑯᓕᒫᓄᑦ ᐱᔨᔅᓯᕋᖅᑏᑦ ᖃᑐᔾᔨᖃᑎᒌᖏᓐᓄᑦ ᑲᓇᑕᒥ ᑐᓴᕐᕕᒋᒍᒪᒐᑦᑎᒍᑦ ᓄᓇᕗᑦ ᒐᕙᒪᒃᑯᖏᑦ ᐃᑲᔪᖅᓱᐃᖁᔨᓂᑦᑎᓐᓂᑦ ᐃᖅᑲᓇᐃᔭᖅᑎᖁᑎᖏᓐᓂᑦ ᐊᑐᓕᖅᑎᔅᓯᓗᑎᑦ ᓱᕐᕋᓐᓂᐊᖏᑦᑐᒥᑦ ᐃᖅᑲᓇᐃᔮᔅᓴᒥᑦ, ᓈᒻᒪᓐᓂᖅᐹᒥᑦ ᑮᓇᐅᔾᔭᓵᖃᖅᑎᑕᐅᓗᑎᑦ ᐊᒻᒪᓗ ᐅᑭᐅᖅᑕᖅᑐᒥᐅᓄᑦ ᐃᑲᔫᓯᐊᒃᓴᑦ ᐊᑭᑦᑐᐸᓪᓕᐊᓗᑎᑦ ᐊᑭᑦᑐᐸᓪᓕᐊᔪᑦ ᒪᓕᓪᓗᒋᑦ. ᐃᓚᒋᔭᐅᖃᑕᐅᒋᑦ ᐱᒐᓱᐊᓪᓚᕆᓐᓂᑎᓐᓂᑦ ᓈᒻᒪᓐᓂᖅᐹᒥᑦ ᐊᖏᖃᑎᒌᕈᑎᒧᑦ. ᐅᕘᓇ ᐃᑲᔪᖅᓱᐃᔪᑦ ᑕᑯᒋᐊᕐᓕᑦ ᑐᕌᕈᑎ ᒪᓕᓪᓗᒍ: (ᓄᓇᕗᒻᒥᐅᑉ ᐃᑲᔪᖅᓱᖅᑕᕗᑦ ᐃᑭᐊᖅᑭᕕᒃ) https://herefornunavut.ca
ᓄᓇᕗᒻᒥᐅᑦ ᑲᑐᔾᔨᖃᑎᒌᓪᓗᑎᑦ ᐱᓇᓱᐊᖃᑎᒌᑦᑕ ᓈᒻᒪᓐᓂᖅᐹᒥᑦ ᐊᖏᖃᑎᒌᕈᑎᒥᑦ ᐱᖁᔨᓗᑕ ᐅᓇᓗ (ᐃᖃᔪᕐᓱᐃᔪᖅ ᓄᓇᕗᒻᒥᐅᓂᑦ ᐃᑭᐊᖅᑭᕕᖅ ᑐᕌᕈᑎᖓ ᐅᕘᓇ) herefornunavut.ca ᑕᐃᒫᒎᖅ ᓯᕗᓕᖅᑎᓯ ᑐᓴᖅᑎᓪᓗᒋᑦ ᐃᓱᒪᒋᔭᔅᓯᓐᓂᑦ ᑐᓴᕐᕕᒋᒍᒪᔭᔅᓯ ᓄᓇᕗᒻᒥ ᒐᕙᒪᖓᑦ ᐃᓚᒋᔭᐅᖃᓯᐅᑎᒋᐊᖃᕐᒪᑦ ᐃᖅᑲᓇᐃᔭᖅᑎᖁᑎᓂ ᐃᓱᒪᒋᓗᒋᑦ ᐊᒻᒪᓗ ᑕᒪᓐᓇ ᖃᐅᔨᒪᑎᑦᑎᓂᐅᔪᖅ ᑲᔪᓯᑎᑕᐅᖁᓪᓗᒍ ᖃᕆᑕᐅᔭᒃᑯᑦ ᑐᓴᐅᒪᔭᐅᔾᔪᑎᐊᓂ.
A new campaign from the Nunavut Employees Union and PSAC calls on the Government of Nunavut to support workers by providing stable jobs, fair wages & a northern allowance that keeps up with rising costs. Join their fight to reach a fair deal at https://herefornunavut.ca
Nunavut residents can join the fight for a fair deal at herefornunavut.ca by sending their Member of the Legislative Assembly (MLA) a message calling on the GN to step up for employees and by sharing the campaign on social media.
For the Press Release (English and Inuktitut) please
Read more